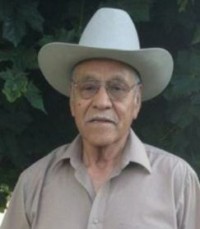 Francisco Valerio
Born:
Saturday Apr-16-1932
Died:
Monday Oct-12-2020
Funeral:
Wednesday Oct-14-2020
Morrison Funeral Home
& Crematory
188 S. Hwy 24
Rupert, Idaho 83350
Contact and Directions
On Monday, October 12, 2020, Francisco Valerio passed away peacefully at his home, in Paul, Idaho, at the age of 88. Francisco was born on April 14, 1932 in El Cortijo, Michoacan, MX and raised in Coeneo, Michoacan.

He married his first love, Imelda Reyes, on May 1, 1954. From this marriage, Francisco had eight kids (five boys and three girls). He was best known as 'Papa Kiko' to those who loved and looked up to him most, his 24 grandkids. Francisco had 14 great-grandkids & 3 great-great grandkids. In 1978, Francisco married his best friend, Minerva Esquivel. Francisco was very loved and cared for by his stepchildren and step-grandchildren.

He was very well known amongst his community as "Don Sebas" or Sebastián. A name he acquired from his days as a "Brasero," starting in 1948. Francisco was an extremely hardworking man until his last days. Some of his jobs included Boise Cascade, the Gillettes' family farms, Suchan farms, and Amalgamated Sugar Factory where he worked 42 years and retired at the age 85.

He will be remembered for his quick wit, his loving and giving heart, his unfailing memories and stories. And all of the friends and colleagues he made along his journey. Francisco will be deeply missed.

Francisco is preceded in death by his parents, Francisco Valerio and Susana Salinas, his grandmother Maria Refugió Salinas, his son, Francisco, his wife, Minerva, and daughter-in-law, Catarina Romero, his step-sons Joseph and Delfino Jr. Martinez. He is survived by his ex-wife, Imelda Reyes, his kids, Adan, Eleazar (Josefina), Sergio (Elva), Lilia (Jose), Imelda (Antonio), Armando (Noemi), Esmeralda (Edgar), his step-kids Alice, Isidro, and Dan Martinez, Marlene Perry, and all of his grandchildren.

Family and friends are welcome to join the graveside service which will be held Wednesday, October 14, 2020 at the Rupert Cemetery at 4:00 p.m. MT. Facemask and social distancing are greatly appreciated.

///

El Lunes, 12 de Octubre 2020, Francisco Valerio, falleció tranquilamente en su casa en Paul, Idaho, a la edad de 88 años. Francisco nació el 14 de Abril de 1932 en El Cortijo, Michoacán, MX y se crió en Coeneo, Michoacán.

Se casó con su primer amor, Imelda Reyes, el 1 de Mayo de 1954. De este matrimonio, Francisco tuvo ocho hijos (cinco niños y tres niñas). El era mejor conocido como 'Papa Kiko' a aquellos que lo respetaban y admiraban más, sus 24 nietos. Francisco tenía 14 bisnietos y 3 tataranietos. En 1978, Francisco se casó con su mejor amiga, Minerva Esquivel. Francisco era muy querido y cuidado por sus hijastros y nietos.

Era muy conocido en su comunidad como "Don Sebas" o Sebastian. Un nombre que adquirió de sus días como un brasero, empezando en 1948. Francisco fue un hombre extremadamente trabajador hasta sus últimos días. Algunos de sus trabajos incluyeron Boise Cascade, las granjas familiares de los Gillettes', granjas de Suchan, y la fábrica de azúcar Amalgamada donde trabajó 42 años y se retiró a los 85 años.

Será recordado por su ingenio rápido, su generoso corazón, y sus recuerdos e historias infalibles. Y todos los amigos y colegas que hizo a lo largo de su viaje.

Francisco será profundamente extrañado.

Francisco es precedido en la muerte por sus padres, Francisco Valerio y Susana Salinas, su abuela Maria Refugió Salinas, su hijo; Francisco, su esposa; Minerva, su nuera; Catarina Romero, y sus hijastros; Joseph y Delfino Jr. Martinez. Es sobrevivido por su ex esposa; Imelda Reyes, sus hijos; Adan, Eleazar (Josefina), Sergio (Elva), Lilia (Jose), Imelda (Antonio), Armando (Noemi), Esmeralda (Edgar), sus hijastros; Alice, Isidro, y Dan Martinez, Marlene Perry, y todos sus nietos.

Familiares y amigos son bienvenidos para acompañar a la familia durante el servicio que se llevará a cabo el miércoles, 14 de Octubre, 2020 en el cementerio de Rupert a las 4:00 p.m. (MT). Se les agradece usar cubrebocas y practicar distanciamiento social.
Condolences for Francisco Valerio
From: Alice Fleck
So sorry for his family Don Sebas was a good man made my mom happy he will be missed.
Share A Condolence
* The funeral home reserves the right to reject or edit any condolence