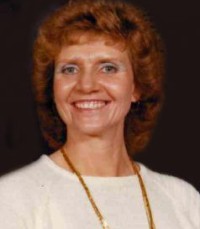 LaVaughn Craythorn
Born:
Friday Nov-28-1941
Died:
Wednesday Oct-14-2020
Funeral:
Friday Oct-30-2020
Morrison Funeral Home
& Crematory
188 S. Hwy 24
Rupert, Idaho 83350
Contact and Directions
LaVaughn Christenson Craythorn, a 78 year old resident of Springdale, passed away October 14, 2020 at Minidoka Memorial Hospital. She was born to William and Neona Christenson in their home in Heyburn on November 28, 1941. She was the 8th of 10 children. As a child, she always had a cheerful disposition which remained with her throughout her life. She started school at Heyburn Elementary School and attended through the 8th grade. She graduated from Minico High School and Seminary in 1960.
LaVaughn loved horses, and her parents managed to buy her a horse of her own. She loved riding bareback with her hair flying behind her while taunting her brothers and sisters who were afraid to ride. In order to go to college after graduation, she sold her horse to pay her expenses. LaVaughn attended Stevens-Henager Business College in Ogden and graduated in 1961 then returned home and worked as a secretary in Cassia County.
After church one Sunday afternoon, LaVaughn met William George Craythorn doing the usual after church activity, "Hot Rodding" down Main Street. She invited him to an MIA swimming event, and love soon blossomed. They were married November 15, 1961 in the Logan Temple of the Church of Jesus Christ of Latter-Day Saints. They made their home in Springdale, Idaho, and were blessed with four sons, Darrell, Allen, Jeffrey, and Chad.
Bill and LaVaughn operated a small dairy on their farm in Springdale, and LaVaughn worked alongside Bill milking cows, driving tractor, irrigating, and doing other odd jobs. Although they loved the farm, they were forced to seek other employment to support their family. LaVaughn worked as a secretary, cashier, and bookkeeper for various businesses in the Mini-Cassia area. She loved working with people, and everyone who knew her remembers her always present smile.
LaVaughn was an active member of the Church of Jesus Christ of Latter-Day Saints. She served in various capacities in Primary, Young Women, and the Relief Society. One of her ward members commented, "Service is her calling." She loved serving others and looked for opportunities to serve. LaVaughn suffered a stroke 11 years ago, which affected her speech and mobility, but never affected her beautiful smile and cheerful optimism.
She was preceded in death by her parents, her husband Bill, her mother and father-in-law Irvin and Agnes Craythorn, her two sons Chad and Darrell, and three brothers, Delbert, Darwin, and Larry. She is survived by her son Allen (Anne) Craythorn, Ewe Beach, HI, her daughter-in-law Phyllis Craythorn, Rupert, her son Jeffrey Craythorn, Springdale, grandchildren Evan, Trevor (Ariel), Zachery, Ethan, and Riley, and two great grandchildren. She is also survived by her siblings Naoma Zemke, Gladys Harrison, Lareta (Garth) Shaw, Marvin (Sue) Christenson, Norvel (Karen) Christenson, Norma (Gail) Jeppesen, and sisters-in-law Francine and Marva Christenson.
Funeral services will be held at 11:00 a.m. Friday, October 30, 2020 at the Springdale 1st Ward Building, 519 East 200 South Burley. Burial will follow in the Riverside Cemetery. Friends may call from 10:00 until 10:45 a.m. Friday morning at the Church prior to the services. Those attending are asked to practice social distancing and wear masks. Services are under the direction of Morrison Funeral Home 188 South Hwy 24 in Rupert.
Share A Condolence
* The funeral home reserves the right to reject or edit any condolence