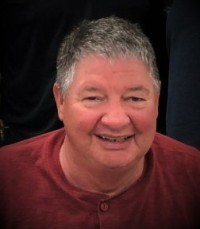 Michael Lynn Davids
Born:
Monday Dec-07-1953
Died:
Tuesday Nov-03-2020
Funeral:
Saturday Nov-07-2020
Morrison Funeral Home
& Crematory
188 S. Hwy 24
Rupert, Idaho 83350
Contact and Directions
Lynn Davids, a loving son, brother, father, and grandfather passed away on November 3rd, 2020 from COVID-19.
Lynn was born the winter of 1953 in Downey, Idaho. In his early childhood he was raised on the family farm outside Lava Hot Springs. During his grade school years, the family moved to Burley, Idaho where he would spend the majority of his life. He graduated from Burley High School. He was talented working with his hands and had a gift for being able to fix most anything. Over his life he worked as an electrician, various auto jobs, potato processor, but his favorite job was working at the Burley Golf Course.
His favorite hobbies were tinkering on old cars and sports of all kinds. He was a standout athlete in high school sports: cross-country, track, baseball, and basketball. After high school he enjoyed skiing, tennis, and racquetball. But his favorite thing was playing golf with family and friends. It was time spent golfing that fostered some of his closest relationships. He was known in the community for his attendance and support of high school sports, and especially for stringing tennis racquets for the Burley and Minico tennis teams.
His proudest accomplishment is his family, he always put them first in his life. He was a faithful son, loyal brother, proud father, and loving grandpa.
He is preceded in death by his parents, Ira and June, and siblings Darla, baby Julia, and baby James. He is survived by his 3 children and 10 grandchildren; brothers Lawrence, Lyle, and Wayne; several nieces, nephews, cousins, extended family, and many friends.
Graveside services will be held at 1:00 p.m. Saturday, November 7, 2020 at the Arimo Cemetery in Arimo, Idaho. Arrangements are under the direction of Morrison Funeral Home, 188 South Hwy 24 in Rupert.
Condolences for Michael Lynn Davids
From: Lauren bowers
I could always count on Lynn to cheer me on when I played tennis. He always had the best smile, and love for the game. He will truly be missed.
From: Diane Bell
My thoughts and prayers are With you and your family. I got to meet Michael through my dad Bill Schaeffer who is in the old car scene too. No matter where i was if Michael saw me he made a point to say hello. I really enjoyed that. God bless you all. Diane bell
From: Cindy Hotchkiss
Rest in peace Lynn, always will remember your smile and Sense of humor. You will be missed.
From: Sherrie Martin
I am so very sorry for the loss of this dear man. I worked with him at ore-ida and gave him the nickname "huston". We were running potato packaging machines. He was getting ready to go to break and i was doing weights. We had to weight 10 Full baGs of product from each line. When i weighed his line there were 8 underweights out of 10. I yelled to him as he was getting Ready leave saying, "huston, we have a problem. From that daY on he was known As huston. He was doing boY sCouts at this time. My GraNdkids were going to him. He was always Huston. Huston was a wonderful friend who always had a smile for everyone. He was his happiest when he got his job as grounds keeper at the golf course. LawRence, lyle, And wayne i am so very sorry for your loss. Lynn was a very good friend. R.i.p. huston. Until we meet again my friend.
From: Colleen K Cowham
Lynn had the sweetest smile. Very gentleman like and lots of fun
To hang out with. He will be missed
Share A Condolence
* The funeral home reserves the right to reject or edit any condolence