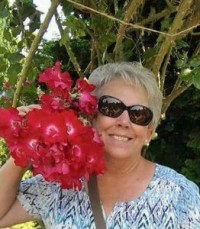 Diane F. Allen
Born:
Saturday Dec-06-1941
Died:
Thursday Nov-05-2020
Funeral:
To Be Announced
Morrison Funeral Home
& Crematory
188 S. Hwy 24
Rupert, Idaho 83350
Contact and Directions
Diane Fay Allen
Diane Fay Allen 78 year old Rupert resident was reunited in heaven with her loving husband on November 5, 2020.
Diane was born on December 6, 1941 in Rupert, Idaho, the daughter of Albert and Lela Plocher. We are convinced that if the Japanese had known of her arrival, they never would have took a shot at Pearl harbor. The day after she was born the world went to war and she went to work being awesome.
Diane grew up on the family farm north of Rupert with her five siblings. She was the middle child and a best friend to her brothers, sister and about 150 cousins. The Plocher "cousins" and her relationship with her large family were something she cherished. Family was her anchor.
Fun Fact: Diane was a part of Minico High Schools inaugural Graduating class in 1960. An original Spartan and a farmer's daughter. We thought she'd get a kick out of a "Fun Fact" in this obituary.
On February 17th, 1960 Diane married Donald Allen, the one true love of her life. They Shared the rest of their lives together. Best of all they shared that beautiful life with all of us. They showed us daily that marriage is a 100/100 enterprise. They gave their all to one another and to us. Together they raised two sometimes unruly sons, counseled some very patient daughters in law and spoiled seven grandkids and another seven great grands.
Diane had long and successful banking career starting at Idaho First National and eventually…almost 50 years later, retiring from D.L Evans. She loved banking and loved her customers. She considered it an honor to help the people that she grew up with. She knew everybody's name, and everybody knew she cared.
Diane's favorite things were family (especially her brothers and sisters), loving on her grandchildren, drinking coffee, General Hospital, carousing with her Red Hat Gang and buying shoes. Lots and lots of shoes. Lots of shoes.
Our Mom made a difference in this world. She met you where you stood and loved you around your faults. She could be your cheerleader, your counselor or your drill sergeant, whatever it took you got her best.
And, she could laugh.
We will miss her terribly and we will strive to carry on her example.
A gathering of friends will be scheduled at a later time. We look forward to sharing our love for Diane with you all then. Cremation services are under the direction of Morrison Funeral Home, 188 South Hwy 24 in Rupert.
Condolences for Diane Allen
From: Janice (Tanner) Weiner
All,
I am so sorry for the loss of you Mom, Grandmother and Great Grandmother. DIane was a very special person in my live. From being part of the B-Trap gang, where being one of those moms who were always looking out for all of the B-Trap kids. She was always helping me tread the waters at Idaho First National Bank. She knew when I needed a friendly smile or when she needed to take me into the bathroom for a hug. He was a true rock for me while working at the bank in Rupert.
Think about this: My Dad, Paul Beeler are playing their guitars and signing, my mom is tryiing to sing along while your Mom and Dad are dancing the night way!
Sending prayers your way.
From: Marilyn Wall
Diane, you were our friend even before we began school. There was Diane, Jean and Marilyn. We rode horses, we would swim in the canals, we would rod the square in Rupert. It was always, 'WE'. Love you and grateful to have been friends forever...Rest in peace....
From: Sharon Allen Prindel
I am so sorry for your loss. I will miss your mother, Grandmother, and Great Grandmother. We have known each other for 65 years, graduated together, both married allen's, both named a son scott, and worked at Idaho first national bank for 10 years together. i remember when one of you boys would call us at work and sometimes a voice would say "Scott's on the phone" and we would say which one?
For the last 20+ years we called each other on our birthdays (sometimes I got the wrong day) and she would talk on mine and i would sing on hers. I will truly miss singing to her this year but I will be singing in my heart for her always.
Love, Hugs and prayers to her family.
Sharon
Share A Condolence
* The funeral home reserves the right to reject or edit any condolence