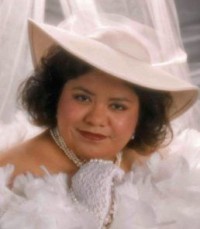 Rosa Linda Rubio
Born:
Sunday Jan-28-1973
Died:
Saturday Nov-21-2020
Funeral:
Thursday Dec-03-2020
Morrison Funeral Home
& Crematory
188 S. Hwy 24
Rupert, Idaho 83350
Contact and Directions
Rosa Linda "Valero" Rubio known to everyone that knew her as Rosie or Rosa, passed away November 21, 2020. She left this earth to be reunited with her grandmother whom she had missed so dearly.
Rosie was born January 28, 1973, to Mario Alberto Valero and Amelia Valero, in Weiser, Id.
When Rosie wasn't telling everybody what to do or how to do it, she was in the kitchen cooking up a new recipe or baking. She helped her mother raise her brother and sister at a young age and wasn't able to finish high school degree. Later on she obtained her GED and was working towards getting her RN License.
Rosie truly enjoyed being in her bountiful garden, her roses and all of her flowers gave her much joy. She could also be found with her fiancé, Oscar Garcia, exploring the outdoors and traveling or dancing. If anybody knew Rosie they knew dancing was her biggest passion. She looked forward to the weekends where she would spend the day getting her outfit ready and all dolled up.
Rosie was preceded in death by her grandparents, Manuel and Tomasa Valero; her uncles, Raul Gomes and Jessie Valero.
She is survived by her fiancé, Oscar Garcia, her mother; Amelia Valero, her children; Ayessiah May Rubio, Annarosa Maria Rubio, Arturo Jr. Rubio, her brother and sister; Roman Anthony Valero and Venesa Leticia Valero, her niece and nephews; Amiyah Valero, Andre Valero, and Dallas Valero.
Memorial services will be held at 4:00 p.m. Thursday, December 3, 2020 at the Morrison Funeral Home, 188 South Hwy 24 in Rupert.
Condolences for Rosa Linda Rubio
From: Colleen Cowham
I remember Rosa. When Tanya brought her over to the house and said mom this is Rosa. She was a sweet teenager and her and Tanya would hang out all the time. I can't remember anytime when those two teenager ever got in trouble.
From: Norma Alisia Martinez
With much love to Rosie's family may her smile and sound of laughter always be remembered. my beautiful cousin gone but never forgotten. Love norma and family
From: Tanya Braswell
To the Valero and Rubio family so sorry for your loss She was a very special , loved , beautiful person. Love Tanya Braswell. I remember when she came up to me in school at east minico Jr high and told me I made her laugh all the time that I was the class clown and from that day on her and I became best friends forever . I'll miss you friend Love your friend Tanya Braswell
From: Maria Victoria Valero
Rosie was a Vert persistent person.. passionate in everything she did for her family and friends. Yes she was a very determined person and demanding at times..but those were her qualities in Life ..she will be missed dearly and will always be in our hearts
From: CASSANDRA MACK
i AM SO SAD TO HEAR OF THIS LOSS. ROSA WAS THE BEST FRIEND A GIRL COULD HAVE IN MIDDLE AND HIGH SCHOOL. sHE REALLY GOT ME THROUGH THOSE TIMES AND EVEN PROTECTED SOME OF US FROM THE MEANER KIDS. WE FELL OUT OF TOUCH AFTER i WENT TO COLLEGE BUT SHE HOLDS A VERY SPECIAL PLACE IN MY HEART. REST IN PEACE OLD FRIEND.
From: MartY
She Is and always will be my big sister!!
I LOVE YOU ROSie!
From: Sheri hernandez
My thoughts and prayers are with your family , I will miss seeing your beautiful smile at dialysis
Share A Condolence
* The funeral home reserves the right to reject or edit any condolence