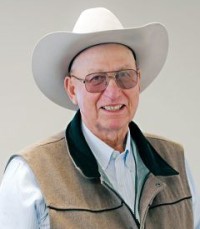 Henry Gene Bortz
Born:
Friday Jun-09-1944
Died:
Tuesday Jan-05-2021
Funeral:
To Be Announced
Morrison Funeral Home
& Crematory
188 S. Hwy 24
Rupert, Idaho 83350
Contact and Directions
Henry Gene Bortz, of Declo, Idaho, entered Heaven Tuesday, January 05, 2021. He was born June 9, 1944 to John Bortz and Leona Fries-Bortz.
After graduating from Declo High School, Gene joined the Army in October, 1962. He married his high school sweetheart, Karen Wickel on September, 30, 1963. Together they raised three children on the farm, where many life lessons were taught. Gene spent his life actively involved in production agriculture, both for himself and other farmers in the community. Gene was known for his hard work, honesty and believed that if a job was worth doing, it was worth doing right. Gene was one of his grandkid's biggest fans whether it was on the volleyball court, football field or livestock showring. Family was very important to Gene.
His retirement years were spent enjoying a cup of coffee on the deck with Karen, weeding the garden, helping his kids and serving at Burley First Baptist Church.
He is survived by his wife of 57 years, Karen Wickel-Bortz, daughter Holly (Mike) Terpstra, (Eagle, ID), son Dennis (Sara) Bortz, (Albion, ID) and grandchildren Andrea Terpstra, Michelle Terpstra, Dana Reynolds and Henry Bortz. He is preceded in death by both parents, brother Elmer Bortz (Klamath Falls, OR), sister Ellen Kelley, (Burley, ID), daughter Janine Marie Bortz-(Brett) Reynolds (Moses Lake, WA).
Funeral arrangements are being handled by Morrison Funeral Home, Rupert, ID. Viewing will be Sunday, 1/10/21, 3:00-5:00 PM at Morrison Funeral Home, 188 S Hwy 24, Rupert, ID 83350 and from 10:00 - 10:45 AM at the church prior to the funeral. Celebration of Life service will be held Monday, 1/11/21 at First Baptist Church, 2262 Hiland Ave, Burley, ID, 83318, 11:00 AM. Burial service will be at the Pleasant Hills Cemetery, Albion, ID where military rights will presented. Lunch to follow at First Baptist Church, Burley.
In lieu of flowers the family asks that donations be made to the Samaritan's Purse, the Building Fund at First Baptist Church Burley, or a charity of your choice. Arrangements are under the direction of Morrison Funeral Home, 188 South Hwy 24 in Rupert.
Condolences for Henry Bortz
From: Callie
Karen and family, may God hold you close during this time. I always admired Gene and his commitment to Christ. Prayers
From: Curtis D Morgan
Gene and Karen were very instrumental in our walk with Jesus love them deb curt morgan
From: Mark and verla darrington
Karen and faMily, we are so sorry to hear of gene's pasSing. He was a good man, and we really appreciated his work On the farm. We are praying for you tO feel peace and comfort at this time.
From: Judy MAESTAS
I will forever be grateful for his service in GriefShare he and Karen were such a blessing to me. Because of you guys we are still facilitating a Grief class in Tucson Karen Gods peace be with you and your family. Andy and I send our prayers and condolences. God Bless
From: Chris and Gloria COSTA
WITH SADNESS WE heard OF GENE'S passing, but with joy he is in heaven with our saviour and Loved ones. He was a good friend and we Have many PRECIOUS memories. Praying for you. Cast your cares ON God for he CARES for you.
From: Tom and Marie hitt
Karen just want y to know how much we have en your friendship over the years. You are very Special and know that our thoughts are with you and your family. Love Tom snd mar ie
Share A Condolence
* The funeral home reserves the right to reject or edit any condolence