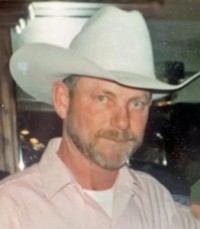 John M. Hitt
Born:
Saturday Mar-09-1957
Died:
Saturday Jan-09-2021
Funeral:
No Services Will Be Held
Morrison Funeral Home
& Crematory
188 S. Hwy 24
Rupert, Idaho 83350
Contact and Directions
John Hitt 63 of Declo, Idaho, passed away on Saturday January 9, 2021 after a valiant battle with Head & Neck Cancer.
John was born on March 9, 1957 in Burley ID to Jim "Pud" and Doris Hitt. John joined his siblings on the Hitt Homestead in Malta, ID. John spent many days as a young boy learning the Cowboy Way on his Grandparent's Poppy & Nanny Olson's Ranch in Bridge, ID. John's Parents would eventually move their Family to Declo, ID.
John attended Declo Schools and after that began working on the Hitt Appaloosa Ranch.
John married Dalynn Whitaker on May 12, 1973 to this marriage 3 children were born; Jerod Wade Hitt, Stacy Lynn Hitt & John Jordan Hitt II. John & Dalynn moved their young family to Stockton, CA in 1977 in search of work. While in California John worked for family friends, Beck Brothers Construction alongside his Uncle Ed Hitt, as well as Cousins Lonnie & Ben Hitt. He learned a valuable trade as a General Contractor. Eventually John & Dalynn would make their way home to Declo, ID in 1981. John & Dalynn later divorced however, throughout the years John always referred to Dalynn as "The Mother of My Children", a term of endearment.
John always had a friend riding shotgun, he was always surrounded by his friends and was in search of a good time. John gathered at the quilting circle (a group of John's closest friends) on a weekly basis. John would tell loved ones of his time spent at the quilting circle stating, "we just joke & toke". John had a passion for Raising Cattle, Tending to his Horses, Hunting & Gold Mining. The Hitt Appaloosa Ranch is where John called home until his passing.
John is survived by his children; Jerod & (Piper) Hitt Mountain View, WY, (Dan) & Stacy Konrad Burley, ID, John Jordan II & (Cami) Hitt Acequia, ID. Grandchildren; Jerod Pud Hitt II, Taylen Hitt, Dallas Hitt, Teegan & (Jacie) Bingham, Jason Konrad, Kelsey Konrad, Stevie Bingham, Kaitlyn Konrad, Lexie, Jordan, Lambree & Josie Hitt. Great Grandchildren Rayden & Arya Bingham. Brothers Jim & Joe Hitt Declo, ID Sister Judy Anderson Heyburn, ID, Brother In-Law Jim "Freck" Asher Heyburn, ID Uncle Tom & (Marie) Hitt Malta, ID, Uncle Dennis "Butch" Hitt Klammath Falls, OR, Aunt Helen Hitt-Buttars Burley, ID and John's Little Buddy Maddox.
John was preceded in death by his Parents Pud & Doris Hitt, Sisters Janet Asher, Jill Hitt, Sister In-Law Teresa Marie Hitt, Niece Kari Lynn Hitt-John, Nephew Oliver "Ollie" Anderson and John's Long Time Partner Elevina Dorthea Suazo.
John requested No Formal Services. The Hitt Cabin / Cold Springs Sublett, ID will be John's final resting place, John often referred to Cold Springs as Heaven on Earth.
Arrangements are under the direction of Morrison Funeral Home, 188 South Hwy 24 in Rupert.
Condolences for John Hitt
From: Sherry phillips delgado
So sad to hear about john's passing. Loved to visit with John, he always had a smile. Awesome guy. He will be missed dearly. Prayers to all his family and friends.
Share A Condolence
* The funeral home reserves the right to reject or edit any condolence