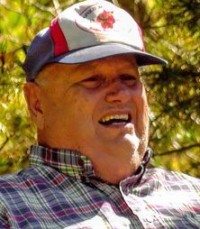 Orvin DeVaughn Jenks
Born:
Wednesday Nov-08-1944
Died:
Friday Feb-12-2021
Funeral:
Friday Feb-19-2021
Morrison Funeral Home
& Crematory
188 S. Hwy 24
Rupert, Idaho 83350
Contact and Directions
DeVaughn Jenks of Oakley, Idaho passed away peacefully at home on February 12, 2021. He was a person who proactively loved his family and served members of the community. He will be remembered for his generosity with his time by the many, many he served.
Orvin DeVaughn Jenks was born to Orvin Charles Jenks and Nona Marie Morrison on November 8, 1944. He was a very active child who took to sports, especially anything with a ball, and to music. He was the oldest child and his younger brothers and sisters remember him fondly as a good big brother. He served a mission for the Church of Jesus Christ of Latter Day Saints from 1964-1966 (Northern States Mission, USA). He married the lovely Pamelia Hale (born Dec 8, 1947) on November 22, 1966. After starting their married life and family in the Salt Lake Valley for 8 years, they were drawn back to their origins and decided to settle in Oakley, Idaho to raise their children.
DeVaughn was preceded to heaven by sister Karla, brother Lawrence, his nephew Derrick, his beloved parents, and brother-in-law Chuck Osterhout (Marla Jenks). His loving wife Pam and children Bryant (Shauna), Michael (Theresa), Nancy (Richard), Joseph (Melissa), Amy (Jared), Sarah (Josh), Charles (Carolyn), and Barry (Heather) miss their beloved husband and father. Siblings remaining here celebrate his well-lived earthly life and know him as DV. They are Steven (Sara), Lawrence-deceased (Lucille Jones), Joanne (Randy Cook), Robert (Janet), Nina (Tim Osterhout), Marla (Kent Black), and Brian.
DeVaughn, or DV as some knew him, loved the outdoors, loved drives through the mountains where he found peace, and loved camping and fishing with his family. He knew a great deal about various birds and flowers, and had a green thumb in the garden which he nurtured with Pam, often sharing its bounty with those he loved. DeVaughn had a beautiful singing voice that he didn't often feel he could share with others in his later years. And, he was also a talented harmonica player. He was a good athlete in his younger years and for a time coached his sons' baseball teams. DeVaughn enjoyed fish and chips night with Pam every Friday. He also looked forward to our family gatherings where we would sometimes roast hotdogs and eat Pam's homemade ice cream.
Funeral Services will be held at 11:00 a.m. Friday, February 19, 2021 at the Oakley Stake Center, in Oakley. Burial will follow in the Oakley Cemetery. A viewing will be held at the Church in Oakley on Thursday from 4:00 until 6:00 PM and from 10:00 until 10:45 AM at the Church on Friday prior to the funeral. Services are under the direction of Morrison Funeral Home 188 South Hwy 24 in Rupert.
Condolences for Orvin Jenks
From: Mollie Clement
I am so sad to hear of this. He was a wonderful man.
From: Sandy Osterman
I am so sorry, Pam. You and your sweet husband built quite a legacy. I pray you find peace and comfort in knowing that he is pain free now and resting with loved ones through this very thin veil we call Heaven. Please take care.
From: Tanner Mike & Dana
So very sorry for your loss, Pamelia, we are praying for you and your family.
From: Tanner Mike & Dana
So very sorry for your loss, Pamelia, we are praying for you and your family.
From: Daryl McCombs
Our sincere condolenceS. DV is An extremely fine man! I have thought highly of him since my childhood. My brother and I would go down the road with our mother to uncle orvin and aunt Nona's house often to play when i was young. We had great times there. Dv was always kind and good to me, even though I was more than 3 years younger than him. I have never known him to be unkind to anyOne in any way. Dvw Will have a spec place in the life to come.
From: Mike and Robyn Fehlman
Pam and family our hearts go out to you at this trying time. Devaughn was such a good and caring man. He will be missed.
From: Joe stringham
So sorry to hear of the passing of a great man. He was my baseball coach when I was younger. He has great kids and leaves a big hole in Oakley. To his wife and family, my condolences. He will be missed.
From: Denny and Jan Davis
Dear Pam and family,
I was saddened to hear of Devaughn's passing. I loved that man! Together, we worked on many things throughout the years with church, family and home. Devaughn was always so gentle, kind and honest in everything he did. He was one that I could trust in any endeavor. I loved his wonderful family and am excited to one day be with Devaughn and his posterity again. Our tender feelings and prayers go out to all of you at this time. Love, Denny and Jan Davis, Oakley Idaho
From: Leonard Mullen
DEVAUGHN HAS ALWAYS BEEN A STALWART EXAMPLE TO ME AND MY FAMILY. HE WAS KIND AND LOVING TO ALL. MAY GOD BLESS AND COMFORT PAM AND HIS FAMILY. HE WILL BE MISSED GREATLY BY ALL WHO KNEW HIM.
From: K. and Carol Wells
We have been thinking of you, Pam, and your family all week. Please know you are in our prayers.
From: Roger Holyoak
Our prayers, love and memories go out to each of you.
Share A Condolence
* The funeral home reserves the right to reject or edit any condolence