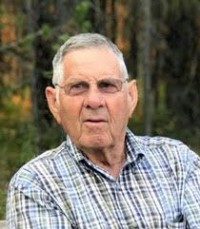 Darold L. Krieger
Born:
Tuesday Feb-28-1933
Died:
Monday Aug-30-2021
Funeral:
Saturday Sep-04-2021
Morrison Funeral Home
& Crematory
188 S. Hwy 24
Rupert, Idaho 83350
Contact and Directions
Darold Louis Krieger, 88, passed away Monday, August 30, 2021, surrounded by family. Darold was born February 28, 1933, in White River, South Dakota to John Lewis and Helen Hollinger Krieger.  Darold is the oldest of eight children.  Dad's younger years were spent in South Dakota where he grew up going to school in a one room schoolhouse with all his siblings and cousins from kindergarten through 6th grade.  At a young age, dad and some of his siblings would set traps to catch skunks so they could sell the fur. One day on the way to school they checked the traps and had a skunk. They headed into school and as soon as their teacher caught wind of them they were sent home. In 1946 his family left South Dakota and moved to Burley, Idaho where he graduated from Burley High School.  After high school he was drafted into the Army. He served at the end of the Korean War as a Military Police officer.  In 1955 he married his sweetheart, Rose Okelberry.  They lived in Twin Falls, Idaho, and later moved to Burley. They loved to ride horses, gardening, and spend time with their children and grandchildren.  He served on the Pomerelle Ski Patrol for many years. He loved taking and teaching his children and grandchildren. He loved his years serving on the Ski Patrol.  After Rose passed away you could always find him at one of his grandkids sporting events, he loved watching and cheering them on! He worked for the telephone company for almost 44 years.  He was well known as the "Telephone Man". He was a faithful member of The Church of Jesus Christ.  He loved the gospel.  After retirement he and Rose served two summer missions in Cody, WY.  Our loving father is survived by their five children, Terry (Heather) Krieger of Springville, UT, Tamara (Mike) Patterson of Paul, ID, Michael (Alane) Krieger of Rexburg, ID, Debra (Mike) Searle, and Nichole (Kyle) Searle both of Burley, 23 grandchildren and 31 great grandchildren; His siblings, Warren (Clara) Krieger of California, Yvonne (John) Weimer of Heyburn, ID, Clarice Leslie of Paul, ID, Harvey Krieger of Kimberly, ID, Larry (Sandra) Krieger of St. George, Ut, Kay Rehn of Twin Falls, ID and Karen (Paul) Walker, Reno, NV.  He is preceded in death by his wife Rose and his parents. Funeral services will be held at 10:30 a.m. Saturday, September 4, 2021 at the Burley West Stake Center 2420 Parke Ave in Burley.  Burial will follow in the Marion Cemetery with Military Rites at 2:00 p.m.  A viewing for friends and family will be held Friday evening from 5:00 until 7:00 at Morrison Funeral Home, 188 South Hwy 24 in Rupert and from 9:30 until 10:15 at the Church prior to the funeral. A live webcast of the Service will be available  at the followinglink:https://youtu.be/b5M8nyYxLCo.
Arrangements are under the direction of Morrison Funeral Home.
Condolences for Darold L Krieger
Oh how we love Darold. We are so sorry for your FAMILIES' loss. We will miss him and all the joy he brought into our lives. Our HEARTS and prayers are with you!
Brian and Debra Barlow
Darold and rose and their family. I'm sure he so ha to be reunited with rose. He had a Quiet giant heart. To the family, i send my love and Prayers. I KNOW he will still be cheering you on.
Sharon
We Will miss that tender loving soul! I will miss all the great visits with Darold in his home talking About sports to politics to church. He was so Very kind to me and i will cherish our visits always. I will miss him ordering bacon from me. He would say he had to have bacon when the grandkids came over. I would drop off the bacon and it always took at least an hour to leave and that was ok. I dearly loved him. He Was always so grateful for everything and everyone. He was a true friend and our love to all the family. May you cherish those memories always. He would tell me how much he loved and missed Rose. What a joyful reunion. Driving by his house will never be the same. all our prayers on behalf of the Clegg family.
Leon and Dori Clegg
Darold was one of my very FAVORITE on Ski Patrol. Always so dignified and respectful . Sending thoughts and prayers to all his family.
Cleo Gallegos
Our thoughts are With you all. So sorry we cant Be there in person, but we are united with you in spirit as you celebrate the legacy and love uncle Darold left. We love you.
Annette Christensen
My condolences to all the relatives of Mr. Darold L Krieger, for his departure, I wish with all my heart that Peace and tranquility return to his relatives, amen
Salinas Benavente
There are no words. I'm sorry for the loss you all have had. Please know your mom and dad saved my life physically and emotionally. The Krieger family is forever in my soul.

Susan Abbey
Share A Condolence
* The funeral home reserves the right to reject or edit any condolence