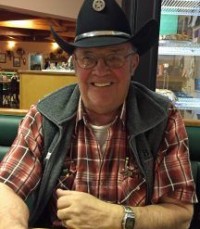 Ivan Ike Smith
Born:
Saturday Aug-15-1942
Died:
Monday Oct-11-2021
Funeral:
Friday Oct-15-2021
Morrison Funeral Home
& Crematory
188 S. Hwy 24
Rupert, Idaho 83350
Contact and Directions
IVAN L. "IKE" SMITH
KIMBERLY - Rev Ivan (Ike) LaDell Smith aka (Rev Ike) of Kimberly Idaho passed away at the age 79 on October 11, 2021. He was born on August 15, 1942 in Copperton, Utah the son of James Lovelle Smith and Mary Josena Frost Smith. He received his education in Burley and attended the College of Southern Idaho studying Mechanical Drafting. He married Linda Ann Marsh on October 23, 1960. Together they had two children and lived in Kimberly. He served as one of the Pastors of Word of Life Fellowship in Burley for about 30 years. Ike was well known in the Magic Valley area for his awesome drafting skills. He was a Master Mason and enjoyed Cowboy Action Shooting throughout the Magic Valley area. He is survived by his daughter Joanne (Chris) Mullis of Ty Ty, GA; daughter-in-law Diann Beckham Smith of Burley, brother James Lyle (Linda) Smith of Burley, and three sisters Anna Corleen (Mike) Soderstrom of Kalispell, MT, Wanda May Butala of Burley, ID, and Sandra Kay (Les) DeNaughel of Burley, ID along with 8 grandchildren, nieces, nephews and cousins. He is preceded in death by his wife Linda Ann Marsh Smith of Kimberly ID, his son Edwin Scott Smith of Burley ID and both of his parents.
A Celebration of Life will be held at 11:00 a.m. Friday, October 15, 2021 at the Apostolic House of Prayer, 94 East Baseline Rd in Rupert, with Pastor John Crawford officiating. Urn placement will take place at 2:00 p.m. Monday, October 18, 2021 at the Paul Cemetery, Paul Idaho. Arrangements are under the direction of Morrison Funeral Home in Rupert.
Condolences for Ivan Ike Smith
van was a great friend and a great pastor Both him and his son ed also a pastor my wife attended their church for 30 years and I was there for almost 15 years two wonderful gentlemen They always had love in their heart the door was always open for a cup of coffee sit down have a talk and I will never forget them Now they are home in heaven playing music together once again we will miss you.
Phil Snow
Ivan was a father to me when I lost my father in 98 so I always considered him and his family my family I will miss him deeply.
Tina Snow
God Bless you Good and Faithful Servant
Kari Klosterman
Share A Condolence
* The funeral home reserves the right to reject or edit any condolence