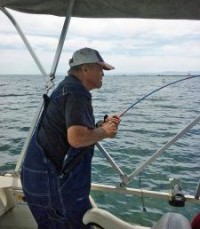 Ronald G Makinson
Born:
Tuesday Sep-24-1935
Died:
Wednesday Oct-20-2021
Funeral:
Friday Oct-29-2021
Morrison Funeral Home
& Crematory
188 S. Hwy 24
Rupert, Idaho 83350
Contact and Directions
Ronald G Makinson, avid fisherman and gardener, passed away on October 21, 2021 at the age of 86, three years after a stroke that left him with severe limitations. Throughout his three year stay at a Boise nursing facility, he retained his friendly grin right up until the end.
Ronald was raised in a large farming family, the only living son. His whole working life was spent in agriculture; farming and working at the sugar beet factory in Paul, Idaho.
Ronald enjoyed his years working on the farm. But his true passions revolved around spending time around his many family members; raising produce in his large garden; and of course, fishing. He spent many sunny days trolling on Lake Walcott as well as other Magic Valley reservoirs.
Two children, Trevor and Jonica were born to Ronald's first marriage. Later, he married Jude Glenn and they shared 24 years together in Rupert, Idaho.
Uncle Ronnie, to many, is preceded in death by his wife, both parents and his six siblings. He is survived by his son, Trevor (Jennifer) Makinson and daughter, Jonica (Rod) Johnson along with 5 grandchildren, Madison, Connor, Ellie, Stephanie, and Alex and one great-granddaughter, Louisa, as well many nieces and nephews.
The family wishes to express its profound gratitude to the caregivers at Life Care Center of the Treasure Valley for their dedication to the care of Ronald for more than 3 years and to all the people who took the time to visit, send a card, or call Ronald during his stay at the care center.
Funeral services will be held at 11:00 a.m. Friday, October 29, 2021 at the Morrison Funeral Home, 188 South Hwy 24 in Rupert. Burial will follow in the Hazelton Cemetery. A viewing for friends and family will be from 10:00 until 10:50 on Friday morning prior to the funeral.
In lieu of flowers, gifts can be given to the Idaho Fish and Wildlife Foundation.
Arrangements are under the direction of Morrison Funeral Home.
Condolences for Ronald G Makinson
So sorry Trevor, Our prayers go out to you and family.
Gary Williamson
So Sorry for loss Trevor, You're in our thoughts and prayers.
Wes
Ron, My life was richer for having you in it. You were a man of few words; but, a very big heart.  Rest in peace until we meet again. Trevor & Jonica, may he shine on through you.
Anna Fitzgerald
Share A Condolence
* The funeral home reserves the right to reject or edit any condolence