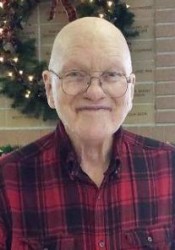 Walter Miles Jr.
Born:
Thursday Dec-21-1939
Died:
Friday Jul-22-2022
Funeral:
Saturday Jul-30-2022
Morrison Funeral Home
& Crematory
188 S. Hwy 24
Rupert, Idaho 83350
Contact and Directions
Walter Miles Jr December 21,1939-July22,2022 Walter Miles JR was born on 12-21-1939 in Ironton, Missouri to Pauline Miles and Walter Miles. He loved camping, traveling, and spending time with his family. He had a great love for all animals. He enjoyed women and girls and they all loved him back so that meant he had lots and lots of girlfriends. He was preceded in death by his parents and both of his sisters Dorthy Berry and Martha Cowan and his great great great grandniece Wendilyn and one nephew Russell. He is survived by nieces and nephews and great nieces and nephews and great great nieces and nephews and even great great great nieces and nephews. Walter passed away in the loving care of the homestead assisted living. He was the sweetest man and had the greatest smile that could cheer up anyone. Services will be held at 2:00 p.m. Saturday, July 30,2022 at the Morrison Funeral Home in Rupert Idaho. A viewing will be from 1:00 – 2:00p.m. prior to the funeral.  The family would like every one that attends to wear something bright or Hawaiian.
Condolences Walter Miles Jr. 
Our FACILITY will be missing That bright smile. Walter was a man of few words, but we had great conversations.
Doreen
Rip UNCLE Walter!! He was a very kind and gentle person. He love life it self . He loved the Lord with all his heart. God gain another angel in heaven. Say hi to your sister and mother for me. You will be well miss!!  Until we are together again.
Oh what fun we had Walter! 10 years camping every July! When you would see Us uptown you would come tap us on the shoulder to say hi! You will be missed!
Vicky Ashet
Nicole toner
Share A Condolence
* The funeral home reserves the right to reject or edit any condolence