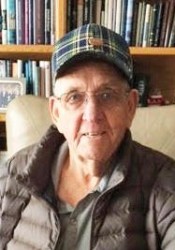 Winslow Gary Whiteley
Born:
Tuesday Feb-07-1939
Died:
Saturday Oct-14-2023
Funeral:
Friday Oct-20-2023
Morrison Funeral Home
& Crematory
188 S. Hwy 24
Rupert, Idaho 83350
Contact and Directions
WINSLOW GARY WHITELEY
OAKLEY -Winslow Gary Whiteley (84) passed away peacefully on October 14, 2023.
Gary was born in Oakley, ID on February 7, 1939, the second of six children born to Winslow Beck and Dorothy LaMare Whiteley. He was raised in Oakley, where he graduated from Oakley High School with the class of 1957. He was a lifelong active member of the Church of Jesus Christ of Latter-day Saints, including service as a full-time missionary in northern California.
Gary was sealed to Eileene Connolly on June 7, 1962, in the Salt Lake City Temple. He and Eileene lived in Oakley for their entire married lives, where they raised their children and had a great influence on the lives of their grandchildren. Their marriage was rooted deeply in service, love, and devotion to each other and in living the gospel of Jesus Christ. He made his living through farming, and he was appointed by the governor of Idaho to two consecutive three-year terms on the National Potato Board, where he and Eileene rubbed shoulders with potato farmers around the country who became their lifelong friends.
Gary's church service included callings as an Elders Quorum President, Young Men's President, ward and stake clerk, and Bishop. He served for a combined 17 years as a counselor in the Stake Presidency and as the Stake President in the Oakley Idaho Stake. His church service brought him great joy as he built lifelong relationships with the men, women, youth, and children he served. He led with love, expecting much without raising his voice or demanding more than he gave himself. After retiring from full-time farming, he spent countless hours in his wood shop, and the pens he crafted were sent literally all over the world with full-time missionaries he set apart.
Gary's goodness and discipleship was manifest by the way he lived and loved people. He was respected by people in all walks of life, and he was comfortable among both the prominent and the humble. He could preach to a congregation of hundreds on the same day he connected with the one out his rolled-down pickup window.
In his twilight years, when asked about what he would like to pass on to his posterity, he responded, "It's all about family," a four-word sermon he lived for 84 years. Holidays, Sunday gatherings, or no special reason at all found him at home with Eileene, surrounded by their children and grandchildren, full of laughter and warmth. Rather than making those around him feel like we had to impress him, he really inspired us to want to be our best. He led by example and could respond to virtually any situation with wit and laughter. His sense of humor brought joy to everyday living.
 He was preceded in death by Eileene, his parents, and three siblings, Gloria (Aaron) Johnson, Kent (Jessie) Whiteley, and Robert (Debra) Whiteley. He is survived by his sisters, Karen (Bill) Giauque and Robyn (Mike) Fehlman, his two children, Jill (Tom) Nilsen and Scott (Christina) Whiteley, his seven grandchildren, and 14 great-grandchildren.
Viewing will be held on Thursday, October 19 from 5:00 to 7:00 p.m. at the Oakley Stake Center at 355 North Center Street. A viewing will also be held at the same location prior to the funeral from 10:00 to 10:45 a.m. with the funeral service on October 20 at 11:00 a.m. Interment will be held following the service at the Oakley Cemetery.
A WEBCAST OF THE FUNERAL WILL BE AVAILABEL AND MAINTAINED AT THE FOLLOWING LINK: https://youtu.be/CclxGmUag4s
Condolences:
To the family of this true and great man. Our sincere condolences and prayers. He was my bishop and later on, stake president. Very humble and true to what he believed. He believed in family, heavenly father, and he was a big fan of OAKLEY! May all the blessings of love and comfort come over his family. He is happy to be with his sweetheart again. We will miss ya til we see ya again....Joe Stringham
We have lost another one of our greatest patriarchs. Gary will forever be in our hearts. The warm smile and kind words, he never missed the chance to say hello and give me a hug. I will miss that so much. Your family was truly blessed to have such an angel in their lives . Like a crayon Gary colored our world with joy and left his mark...Diane Bell
A man of compassion. A good, caring friend. I will miss his hugs and his smile.
All our love to the family. He is with his love....Doris Haines
Gary was my uncle and in 53 years I never once met with him without being greeted by a warm smile. I'm also the lucky recipient of more than one custom made pen. Rest in peace, Uncle Gary....Greg Whiteley
Gary was a true friend and a wonderful spiritual leader. He always made you feel important and needed. He will be missed by all who knew him....Al and Kathy Barrus
Ray and I loved Gary. What a wonderful man he was. Always a smile And yes, we too had been gifted beautiful pens of his handiwork....Cheryl Archibald
We would like to extend our thoughts and prayers to the family, friends and community during this difficult time. We pray that peace and comfort will be found in recalling the many wonderful memories of Gary. He was such a kind, genuine man with a ready smile who always treated us so well. He will truly be missed. With heartfelt sympathy…..Tim & Kathy Collett & family
Our hearts are sad and our prayers are with Jill, Scoot and all their families. Gary was a tremendous example of goodness to everyone! He will be missed, but oh, just imagine! He is back with the live of his life. Eternity is wonderful! Renee Wells
What a gentle giant and one of the Lord's choicest servants. He was always so kind. Our beautiful, handcrafted pens are priceless and a great reminder of the faithful, loving hands that made them. A recent encounter with President Whiteley at Smith's was a special, timely moment. He had a smile but we could sense his great sadness at missing his sweet companion. What a joyous reunion is going on just past the veil! Love and prayers to his wonderful family...Alan & Judy Zollinger
He was definitely a very humble man and served others well.my prayers to the family .till they meet again... Heidi Robbins
So sorry for ur loss! Great man! Heather Jones
I considered Gary a great friend. Our interactions started from business dealings, but went well beyond over the years. He was always a delight to talk to and associate. Our thoughts go to the family whom he loved very much...Scott Horsley
Share A Condolence
* The funeral home reserves the right to reject or edit any condolence