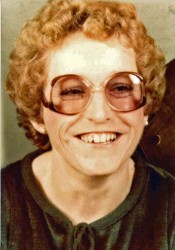 Jerilyn Robinson Madden
Born:
Tuesday Oct-15-1946
Died:
Monday Oct-16-2023
Funeral:
Saturday Oct-28-2023
Morrison Funeral Home
& Crematory
188 S. Hwy 24
Rupert, Idaho 83350
Contact and Directions
JERILYN MADDEN
BURLEY - Jerilyn Madden, 77 year old Burley and former Oakley resident, passed away Monday, October 16, 2023  at McKay Dee Hospital in Ogden, Utah.
Jerilyn was born October 15, 1946 in Oakley, Idaho, the daughter of Ray and Dorothy Port Robinson.  She was raised and educated in Oakley, graduating from Oakley High School.  She attended college at Ricks College and College of Southern Idaho.  After college, Jerilyn started working for Or-Ida where she met Rich Madden.  After a few months of courting, they were married on April 11, 1975 in Oakley.  Their marriage was later solemnized in the Idaho Falls Temple on April 24, 1976.  
On March 12, 1981 they welcomed a son, Joshua Madden.  
Jerilyn and Rich moved around several times and in various places including Burley, Hailey, Rupert, Heyburn, Salt Lake City, Utah and Oakley.
Jerilyn was an active member of the Church of Jesus Christ of Latter-day Saints holding various callings of which her favorite was primary.  She served in Primary for several years.  She was an avid book reader, she loved to read L.D.S. love novels.  She will be missed by all who knew her.
Jerilyn is survived by her husband, Rich Madden, her son Joshua Madden, her ex-daughter-in-law, Tina Steinmiller, grandchildren Braxton Steinmiller Madden and Aurora Steinmiller Madden; sister, Marge (LeLand) Gorringe; brother Jim Robinson. She was preceded in death by her parents, Ray and Dorothy Robinson, her sister, Juanita Robinson Dayley, her brother Dutch Robinson.
Funeral services will be held at 11:00 a.m. Saturday, October 28, 2023 at the Burley 10th Ward building, 515 East 16th Street in Burley.  Burial will follow in the Oakley Cemetery at 1:30 p.m.  A viewing for friends and family will be held on Friday evening, October 27, 2023 at the Morrison Funeral Home, 188 South Hwy 24 in Rupert from 5:00 - 7:00 and from 10:00 until 10:45 Saturday morning at the church prior to the funeral.  Services are under the direction of Morrison Funeral Home, 188 South Hwy 24 in Rupert.
Condolences:
Rich and Josh, we are so very sorry for your loss. How we loved jerilyn for the wonderful lady she was. She is now pain free and with her parents and those who went before. She will be missed but never forgotten. May Heaven bless ya with comfort and love and peace at this time. We pray for ya at this time. All our love to you and your family. May She rest in heaven with her loved ones til we see her again...Joe Stringham
So sorry Rich and family. I am so sorry to all of the family she was so sweet and special. Loved her so much...Heidi Robbins
I loved hanging out at Rich and Jerilyn's house in oakley when I was a child. I loved their cat, Socks and my parents and I would go over on Saturday or Sunday nights for strawberry short cake! Jerilyn was one of the kindest women I ever knew! Rich, you're in my prayers...Tiffanie Stringham Lott
My heart is breaking reading this! I sure loved Jerilyn! What a beautiful lady and I will never forget her or Mom! Sending love to Rich and the family... Cindy Kline
It was our pleasure to know Jerilyn and Rich over the years. Jerilyn was always cheerful and sweet. Our thoughts and prayers go out to Rich and the family...Al and Kathy Barrus
We are so sorry for your loss. She always had a smile on her face. She is going to be greatly missed. Sending prayers of comfort...Kendel & Lisa Asher
What a lady!!! Always a big smile and warm hug when Jerilyn saw you. She was a beauty inside and out and never a mean word out of her mouth about anyone. A true angel, and our lord needed her. We will miss her. Like a crayon she colored our world and made it beautiful. God bless your family at this time....Diane Bell
Rich, I was so sad to hear about your wife. My condolences to you and your family. Keeping you in my thoughts and prayers... Dave Tracy
Share A Condolence
* The funeral home reserves the right to reject or edit any condolence