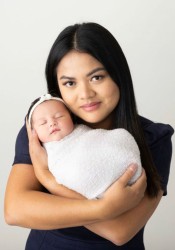 Shebel Robinson
Born:
Monday Jul-15-1991
Died:
Tuesday Oct-31-2023
Funeral:
Monday Nov-20-2023
Morrison Funeral Home
& Crematory
188 S. Hwy 24
Rupert, Idaho 83350
Contact and Directions
SHEBEL ROBINSON
OAKLEY -When God called, our dearly beloved Shebel Go Robinson answered, and left us on October 31, 2023, at the age of 32.  She is survived by her devoted husband Paxton and their precious covenant child Emmeline, grieving parents, siblings and beloved in-laws.  
Shebel was born and raised in the town of Solano, Nueva Vizcaya, Philippines to Benjamin and Isabel (Saldivar) Go.   She was the youngest among 4 siblings.  Shebel was always the light of the room with her never-ending antics but was always the bringer of harmony in the family.  Growing up, her deep compassion with troubled kids made her pursue two degrees - BS Psychology and AB Guidance Counselling.  After graduating from the university, she was employed as a guidance counselor in a private high school before moving to the states to be with the love of her life.  
Paxton and Shebel were sealed for all time and eternity at the Salt Lake temple on May 1, 2015.  After their marriage, Shebel loved to travel and see the world with Paxton.  Shebel was always up for an adventure and loved spending time with her husband.  
Shebel loved to work.  Everyday she woke up and went to High Desert Milk in Burley, Idaho.  Shebel loved all of her co-workers and the customers world-wide she worked with. They held a special place in her heart.  
Being the daughter of a branch President, she was exposed to LDS church activities and teachings at a very young age.  Growing up in the church, she saw the importance and blessings of being faithful and spiritually nourished, thus she willingly served as the Young Women and Young Single Adult president of her branch.   These gave her the burning passion to go an extra mile to help others in the best way she can.  She knew that helping others will give them inspiration to become better and go beyond expectations.  Paxton and Shebel were serving in Primary together and cleaning in the temple, and they loved these callings. But more than anything, Shebel loved being married to her best buddy and husband, to have a child and become an eternal family. 
We knew her as a very strong-willed woman but with the softest heart.   We are not saying goodbye to her, but will say move forward toward eternity with our Heavenly Father.  She will remain in our hearts forever. 
She was preceded in death by her grandparents: Go Chuey Chu, Fedelina Reyes, Leotillo and Maria Saldivar, as well as Reine Robinson and Irwin (Ike) Christiansen.
Funeral Service will be held at 11:00 a.m. Monday, November 20, 2023 at the Oakley Stake Center, 355 North Center Ave in Oakley, Idaho.  The family will receive friends Sunday evening, November 19, 2023, from 5:00 – 7:00 at the church in Oakley and from 10:00 until 10:45 Monday morning at the church prior to the funeral.  A live webcast of the funeral will be available and maintained at morrisonfuenralhome.net   
We invite anyone who knew her to attend and remember her wonderful life and wear the brightest smiles, as she would want.  
In lieu of flowers,  an account has been set up with the Cassia County Education foundation.  We will distribute money to a scholarship in Shebel's name to an Oakley High School senior and also to the Idaho Center for Reproductive Medicine. Donations can be Venmoed to @cassia education foundation or checks made to Cassia County Education Foundation.
Arrangements are under the direction of Morrison Funeral Home, 188 South Hwy 24 in Rupert.
A live webcast of the funeral will be available and maintained at the following
link https://youtu.be/W4aRImXyUh0
Condolences:
Paxton I am so sorry for the loss of your beautiful bride. We are so heart broken for you and your family. You and Emmeline are in our prayers. If you need anything please reach out.
Love...Addison & Kaydee
I am so very sorry for the tragic loss of Shebel. I pray for God's hand to be upon all of you at such a difficult time. Though I didn't know Shebel personally, I felt how loved she was by Karla and by everyone she touched in life. I pray for you all to have strength now and always.
Sincerely...Marilyn Swan
Paxton the Beal family is so very sorry to hear about the loss of your beautiful Shebel. May you find peace and comfort in our lord and savior in your time of mourning..Scott and Merrilyn Beal
Our thoughts and prayers are with you and your family at this very hard time.
Our hearts are deeply broken and are thinking about you Love...Ray & Annette Kilpack and Family
Paxton
Tom and I were devastated to hear of Shebal's passing. My heart aches for you and your sweet daughter. Please know that you are in my thoughts and prayers. We love you and will support you in every way, through this indescribably, painful time...Donna McBride
Paxton, I am so sorry for your loss of your beautiful wife. My heart hurts for you and your family. These next few days will be a blur of emotions,but know you are an amazing, and strong, person who people are always going to be here for you. We are all family here in Oakley. My prayers and thoughts are with you always. Love to all..Kris Adams
Oh Paxton, there just aren't sufficient words to express our sorrow. You and Shebel were such a perfect fit. She was so kind and as beautiful inside as she was outside. Our prayers have been with you from the minute we heard of this devastating news and will continue to be with You, Emmeline and all of Your family. You are all so very loved...Walt and Tia Mullins
So sorry, Shebel was a beautiful person and will be deeply missed. Paxton you and that beautiful baby will be in our prayers along with your families. With our sympathy...Rod and Jayne Runyon
Paxton, when I heard of this news of your beautiful bride I broke down and just cried for you. Know that we are all here for you and your new baby girl in anyway . This hit home for me because Mark almost went through this very same thing with me. God bless you in this very sad time. There just isn't enough words to ease your pain. Sending all our love your way... Mark and Diane Bell
We are so appreciative to you and Shebel as you took Beck under your wing as he prepared to leave for the Philippines. Last Sunday we looked up Solano and his anticipation to meet Shebel's family in person. He's only 50 miles away. Our families have such long and meaningful memories. We love you, your family and sweet Emmeline. Anything you need, we are there...Winslow Johnson
I'm so sorry for you and your family may God be with you and comfort you at this time . Families are forever and turn to your Heavenly Father in prayer and he will bless you . Love ya buddy...Mark Catmull
Paxton, words cannot express… heartfelt prayers for you , Emmaline, & Family… God Blesss...Schenk Family
Oh, how I wish you weren't going through such sorrow. I pray that the love and support from friends and family will give you a bit of comfort and solace at this sad time. Words seem so inadequate, but just know that you are loved and we are truly heartbroken for you. Sincerely...Jana Darrington
We loved Shebel back as a YSA working in Cauayan. We came to know her and love her. At the same time we came to know and love one of our elders fron a little town in Idaho. Imagine our thrill of hearing that the two of you found each other, became friends, and eventually fell in love. I still remember your wedding day and the privilege I had to be Shebel's Escort. We've so enjoyed the many visits meeting for dinner in Salt Lake and watching the two of you become adults. We were so thrilled about her pregnancy and rejoiced when we saw the pictures of that precious little girl. How our hearts ache with the news of her passing. We pray that you can be given peace and love from on high and that you have the sure knowledge that she is there, preparing a place for you when it's your time to go home. We send our love to you and the rest of your family who adored her...President and Sister Carlos
Never in my 36 years of living in this town have I seen such a sad reaction to someone's death… The entire community is just heartbroken for Paxton and the baby and her entire family… because everyone knows how good of people they are and Shebel was..Jesse Jones
Paxton,
Please know that you're not alone during this tough time. We're all here for you...Elvi
Paxton, No words can describe how sad we were of Shebel's passing. Please be strong for Emmeline Isla. Our prayers are with you...Daisy Villar
Sheb sheb why? I am so sorry for your loss. My deepest sympathy for your loss.
Words fail to express my deep sorrow for your loss. My heart goes out to you and your family with the precious little girl I'm going to miss our friendship. Paxton I am deeply sorry to hear about the passing of your loved one. I know they meant the world to you to so many others. Their memory will forever live on in our hearts...Julien Fulgar (mhie)
Dear Paxton, our hearts are truly broken for you and Emmeline. We live and admire you for all your accomplishments, your happy, hardworking, loving, serving attitude. You have become the dream family we all love and adore. Just know you are in our thoughts and prayers... Paul and Claudia Woodhouse
A love etched in your heart that will continue on through cherished memories.  My prayers of comfort within in you soul dear friend...Doris Haines
I am shocked to hear of Shebel's tragic passing. Our thoughts and prayers are with you. Words escape me, I have such good memories of the two of you in my office, we are just so sorry for your loss. John and Joye Simpson
My Deepest Aloha and condolences to you my kabsat. She was such a radiant spirit for sure mahalo for sharing your time with us woman see you on the bright side. LenWai
Paxton- I'm so sorry for the loss of your beautiful friend and bride. It's so hard to understand how and why this has happened but your faith along with the love and support from your family and friends will make it easier. You have so many people praying for you and Emmeline. Sending love, prayers, and positive thoughts to you. Nicki Mickelsen
Paxton, So sorry for your loss. I hope your memories and that beautiful baby help Carry you through your grief at this time. I know the Lord is with you. Doris Robinson Brocksopp.
I know that there is no perfect words to mend whatever that is hurting right now. Growing up in church, Shebel is someone I look up to. She is an epitome of what a woman should be. Our hearts are broken. She is a sister to me. In this trying times,I testify that families can be together forever. I love your family so much. Sending you my prayers. Cheng Cheng
I am not close with Shebel but, learning of her passing makes me deeply sad and until now it can't sink in my mind that she is no longer with us. While we may not have been especially close, I wanted to take a moment to express my deepest condolences to your family and loved ones during this difficult time. Your absence will undoubtedly be deeply felt. Your departure serves as a poignant reminder of the fragility of life and the importance of cherishing the connections we make, regardless of their intensity. Please know that my thoughts and prayers are with your family as they navigate through this unimaginable loss. I hope they find solace and strength in the beautiful memories they shared with you. May you find eternal peace and tranquility in the arms of the universe. Though you are no longer physically present, your spirit will continue to live on in the hearts of those you touched. Rest in peace, dear Shebel!  Glamis P. Marcos
So sorry and so sad to hear this.. Shebel was my colleague when we worked in Baguio City and one thing that I remember about her is her bright smile. We will surely miss you Shebel, we might not talk everyday but you are like a little sister to me. Thank you for the friendship. Thanking God for letting us knowing you, and now you are in His good hands. We will miss you, bang. Rose-Ann Esteva-Carreon
So very sorry for your loss Paxton. We are keeping you and your little one in our thoughts and prayers during this difficult time. May you be surrounded by the stregnth and comfort of loved ones and friends. With deepest sympathy…..Tim, Kathy Collett and family
Shebel, it still has not fully sunk in that you are gone. I have dear memories of you from when we were still teens and until we've had our own families already. You have always been a strong force of a woman, the most "maarte" and feisty in our group, but I have seen you and witnessed your hear and I know that you are also the kindest and the most generous out of all of us. I will keep you in my heart, and contunue to pray for Paxton and Emmeline. You will always be my friend, thank you for being part of my life, my dear friend..Ivy Bosque
Paxton our deepest condolences. We're so sad for baby Isla, knowing how hard to grow without a Mother to guide her. We're praying for God's comfort to be with you always. We're also grieving for Shebel's loss at such an early age. We will surely missed her especially during family gatherings while she's here in the Phils. – Tita Riza and fam.
Shebel, I'm still at loss for words but I can only hold on to the memories we had in high school until we all became adults. You have always been the "kilay on fleek" type. Your classy and timeless style, and the kind and generous gestures you and Paxton have showed simply defined the richness and fulfillment of the life you have led. I will miss our yearly get together to reminisce on our foolish teen choices and to catch up and rant about life. My friend, we will miss you dearly. I will cherish our memories and will continue to laugh and talk about you. We will be rooting for Paxton and Emmeline of your behalf...Don MB
Shebel, you will always have a space in my heart. Thank you for your kindness and generosity. I thank God for sharing such a wonderful person with us. It pains me that
I cannot see you one last time but I will always include you in my prayers. We will miss you...AGB
Shebel, an ever dear friend and a co-worker. They day we knew you were gone was hard and until now it is still difficult to accept. You are such a wonderful person, beautiful inside and out. Our memories and friendship remain forever in my heart. I love you and I will always pray for Emmeline and Paxy. I will miss you! May you find peace with the Lord...Jenn Torres
Our deepest sympathies and heartfelt condolences to the family. "You've left with no words.The pain we felt was immeasurable.Now the only thing we're holding on was our memories with you and love ones,those memories will always remain forever". We love you Ading Shebel and your family Bayaw Paxton be strong for your baby Isla. Rosselle Divina
hebel truly left a remarkable life to whoever she encounters with. She is a perfect example of how a real sister-in-Christ be like and for this, I may say that she truly live her life to the fullest more so that she inspires a lot of people. That' s why knowing about her passing leaves a heartwrenching feeling to me. I love how she leads either the youths or the YSAs back in the days. Thank you for the fun memories, Shebel. To Paxton and Shebel's family, I know that words are not suffice to mend your grieving heart but please accept my deepest condolences. May you find peace and comfort during this difficult time. Our dear Shebel might be gone but her impeccable memories will never be forgotten. 'Til we meet again Shebel. Marites Marcos-Calulot
Tita shebel..words cannot express how saddened we are at your loss, I will always be grateful to you during my highshool days in helping me do my assignments, thank you for your kindness tita, we will always be cherished the memories we shared, know that you will always be missed! We love you so much tita shebel. Janenne Afalla and your Family in the Philippines
The BEST friend, listener, leader and ate to me! She was one of my leader in young women back then.. She became part of who I am now! Rest in paradise our dearest! Wala na magagalit pag mahahaba ang kuko namin diba ate cheng cheng .. wala nang magsasaway minsan.. Love you forever Shebs! I will never forget you! You will be always in my heart our Juanita! Andrea Pinaroc-Fabianes
Paxton my heart breaks for you, your precious baby girl and your entire family. Our deepest condolences and prayers are with you all always. Lean on your family and friends during this difficult time. Sending you strength, love and comfort. Erin, Jordy and Tyler Clearwater
May you rest in peace ate Shebel. I will not forget the memories we shared together. You have always been the sister i look up to. Thank you for the kindness and being the beautiful sister that you are. Thank you for bringing Isla to this world. I hope to meet her one day. Condolence to Go Family and to Bro. Paxton. Harold
Shebel,i knew here since she was in my valiant class in primary. And since then, i have seen her grow up to be a beautiful young woman. From the church up to her stints as beauty pageant contestant i have been there to push and support her. I was so thrilled when she and Paxton settle down and married for time and eternity. A day after you were gone and i was informed i really cried. My heart goes out to you, Paxton and baby Isla. Shebel, your memories will always be in my heart and mind and to every one that you have touched their lives one way or another. It's not goodbye Shebel…Marjorie Tibung
Paxton, Emmeline and family
Paxton and Shebel's union has always been an inspiration, and none of us could have imagined or understand why the time here would have been so short. Shebel was a smiling light that was loved by everyone who met her and will be deeply missed by all of us. Our deepest condolences, warm hugs and heartfelt prayers to you. Jason and Anna Huff
Our memories of knowing you were during our and your mission and now are so saddened to hear of your loss, please accept our sincere condolences. Elder Br & Sis. Fleming
My deepest sincere condolences for you brother Paxton and Family. To Sister Shebel and her family.  Condolences to Brother and Sister.  Go I'm so sorry for your loss. Shebel is such a blessings to all of you and she is a gift from our Heavenly Father in Heaven. Be strong Shebel is watching over everyone out there. Cielo Balut
Paxton and family, our deepest thoughts and prayers go out to you and your family. We can't imagine the loss of a young mother and wife, but we understand that life is precious and fragile. Shebel is with Jesus now and our hope lies in him that we will all be together again someday. Blessings and prayers for you all. Tim and Pam Fry
Deepest condolences. We will miss you sister shebel till we meet again. Hazzel Gutierrez Reyes
Paxton I never knew you personally but it was through Shebel that I felt like I knew you. Shebel was the epitome of beauty, class and grace. I had the pleasure of working with her at High Desert Milk and I can truly say that I considered her a friend. I alwayS looked up to Shebel and her calm demeanor and as you already know she loved you so deeply that it was inspiring, your daughter is a true testament to your love and hearing of you speak about Shebel was a true testament to your love and your faith. I pray that can find comfort in your faith in times of need...Jessica James
So Sorry to hear this, I did not know the Robinson or Go Families but I have some family in the area and heard about this. Shebel seemed like a great woman, stay strong for Shebel & Isla Emmeline. Paxton, remember the blessings in store in your patriarchal blessing and remember that you live in the greatest town (Oakley) on earth with the most loving people who will help and guide you during this dark and confusing time. Isla Emmeline is going to be a choice daughter of god because of you, Shebel, and Robinson & Go Families, know that your heavenly father has your back as well as all of Southern Idaho, Cauayan Mission, and all friends and family. We pray for you and your family, theres never been a trial that anyone from Oakley has never overcome big or small. Annonymus
Share A Condolence
* The funeral home reserves the right to reject or edit any condolence