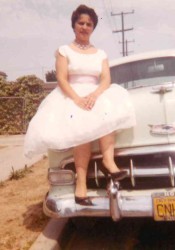 Dora A. Malaxechevarria
Born:
Monday Sep-18-1944
Died:
Wednesday Nov-01-2023
Funeral:
Private Service
Morrison Funeral Home
& Crematory
188 S. Hwy 24
Rupert, Idaho 83350
Contact and Directions
DORA A. MALAXECHEVARRIA
RUPERT - Dora A. Malaxechevarria, 79 year old Rupert resident, passed away Wednesday, November 1, 2023 at her home in Rupert. 
Dora enjoyed helping people, she will be missed by many especially those whose lives she touched the most family, friends and co-workers.
Dora also enjoyed fishing, reading, embroidery and poetry. She once wrote a safety slogans for Ore-Ida. One of these was "Safety is the key for you and me" she won 25 dollars. Dora loved horses, being in the mountains with her Father. Her favorite time of year is fall.
Once Dora retired she had more time for helping neighbors and volunteering at Friends of the Library.
Those who knew her best will miss her, the most her Husband, her children, her grandchildren, her brothers and sister and last but certainly not least her friends.
Dora's generous Spirit will be missed the most.
Condolences:
I Love You Grandma. You have been the best Grandma Ever. You will be Forever missed. I know we will always be together...Veronica Gonzales
My deepest and most sincere condolences. Dora was a beautiful person inside and out. Her and my mom became great friends working together at Ore-Ida. She was a great support for me when my mom passed and I will never forget her kindness and her love...Gypsy L Heuston-Martinez
Mary Jane & Jose I just wanted to let you both know how sorry I am for your loss. My thoughts and prayers are with you both and your family. Ana Hollinger
I'm so very sorry to hear about the loss of your sweet mom. My thoughts and prayers are with you all during this most difficult time.  Marlene
Dora was such a special person. I loved getting to know her at Impact Athletics. Her bright smiling face always seemed to brighten my day. Starting a conversation with her was never hard. She was always intently listening and very interested in anything you had to talk or comment about. I will miss her laugh as she would leave the pool and all saying "Bye Dora". Shaunna Wassom
I am so sorry for your loss! Dora was always very kind and sweet. Sending thoughts and prayers to you all..Melanie Granillo
Share A Condolence
* The funeral home reserves the right to reject or edit any condolence