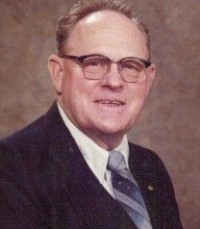 Clarence Staheli
Born:
Friday Jun-11-1926
Died:
Saturday Jan-18-2014
Funeral:
Wednesday Jan-22-2014
Morrison Payne Funeral Home
& Crematory
321 E Main St
Burley, ID 83318
Contact and Directions
On January 18, 2014 our beloved husband, father, grandfather, great-grandfather, brother and friend slipped peacefully away to begin a new mission with those who have gone on before. Clarence Bert Staheli was born in Payson, Utah on June 11, 1926 to Bertram Douglas Staheli and Vera Pearl Elmer. He was the first born of four children sent to this happy couple. His youth was interrupted by World War II in which he served in the Navy just as the war was ending. After the war he served a two year mission for The Church of Jesus Christ of Latter-day Saints in Hawaii. Upon returning home, he met the love of his life, Margie May Allan and they were sealed for time and all eternity in the Manti, Utah Temple on June 15, 1949 and have been together these last 64 years.
He had three loves in his life. The Lord, his family, and the land. He worked at many professions, but always came back to turning the soil and watching things grow.
He was always serving those in his family and community. He loved people and people loved him. As a member of the Church of Jesus Christ of Latter-day Saints he served in numerous callings from Nursery leader to Bishop and High Councilman.
When they retired they served as tour guides at the Boise Temple every Saturday for 3 summers and they served an 18 month mission in the Philippines Naga Mission.
He had a rough exterior, but a heart of gold and was a man of integrity.
Those who were there to meet him are his grandparents, his father and mother, two step- mothers (Ellen and Glenda), a sister (Geraldine), a son (Allan) and a son-in-law (Clifford Thompson). We are sure that it was a great reunion.
Those left to continue his legacy are his wife, Margie May Allan Staheli, six children, Kathleen Staheli Thompson Weekes (Bill), Kent Lee Staheli (Judy), Dee Ann Staheli Hunt (Robert), Clarice Staheli Johnson, Judith Lynn Staheli Gardner (Brent), Patricia Marie Staheli Barksdale (Scott), a brother Douglass Leon Staheli (Marjorie), Colleen Staheli Ahlin (Eddie), 24 grand children, and 52 great grand children.
He is a great man and we will miss him very much, but we know that he has many more lives to influence on the other side.
Funeral Services will be held at 11:00 a.m. Wednesday, January 22, 2014 at the Burley 7th Ward Building, 2200 Oakley Ave. in Burley.  Burial will follow in the Gem Memorial Gardens with Military Honors.  Friends may call Tuesday evening from 6:00 until 8:00 at the  Morrison Payne Funeral Home, 321 East Main Street in Burley and from 10:00 until 10:45 a.m. Wednesday at the church prior to the funeral.  In lieu of flowers the family would ask that you donate to the general missionary fund of the Church of Jesus Christ of Latter-day Saints. 
The family would like to offer their sincere thanks to the staff at Park View Assisted Living Center, the staff at the Hospital and the staff of Horizon Hospice for the fine care he received at their hands.
Compassionate Service rendered by the Burley 7th Ward, Burley West Stake.
Share A Condolence
* The funeral home reserves the right to reject or edit any condolence