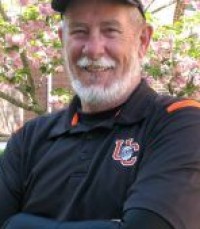 Stanley Wayne King
Born:
Monday Nov-30--0001
Died:
Monday Nov-30--0001
Funeral:
Monday Nov-30--0001
Morrison Funeral Home
& Crematory
188 S. Hwy 24
Rupert, Idaho 83350
Contact and Directions
Stanley Wayne King passed away on 17 February 2021 in Twin Falls Idaho. Born to Stanley
Clay and Lorena Vance King September 3, 1946 in Georgetown Kentucky. ​He was preceded
in death by his mother Lorena, his father Stanley, and his first wife Sharon of 23 years.
Even at the end he kept his ever glowing smile and his sense of humor. He had the opportunity
to say goodbye to his children, grand children and siblings. Shortly after these goodbyes Wayne
passed away peacefully in his sleep.
Wayne's life was about challenging himself and the people around him. Wayne grew up in
Athens Kentucky and went to Bryan Station High School. He was drafted into the Army in 1965
and spent two years stationed in Berlin Germany. After returning to Lexington he served a
firefighter for the Fayette county fire department. Wayne then decided to return to the Army and
retired in 1990 with 20 years of service. After retirement from the army Wayne worked both as a
school bus driver, and various other jobs for the city of Lexington. At 65, he enrolled in Union
College where he received a Bachelor of Science in Recreational Management. Wayne
coached at Union as the assistant golf coach for 3 years. Working with the students was one of
the best parts of his life. His final move was to Idaho with his wife Kay.
Wayne was a sports enthusiast, playing a variety of sports including basketball, softball,
championship pistol shooting in the army, and of course golf. Wayne's passion for golf
was contagious to all he played with. He loved to coach as much as he loved to play the
game of golf. Wayne passed his love of sports to hundreds of people, his children,
grandchildren, friends, and athletes at Union College.
Wayne had a real lust for life always ready for the challenges of the day both good and
bad. He had been an athlete, firefighter, soldier, school bus driver, city worker and
student. But most of all he loved his family and looked forward to playing with his
grandkids, and great grandchildren which he loved and adored.
He is survived by his loving wife Marleen Kay Eads-King of 29 years, his sister Carolyn
Ashcraft, and his brother Billy Ray King.
Four children Whithey Lee Calouro, Brandon Wayne King, Leslie Dale Eads, and Carrie
Lee Eads.
Nine grandkids, Kayla Contreras, Kevin Beales, Kristen Mylott, Alexius Jones, Tyler
Herrington, Jacob Herrington, Cody Eads, Jakob King, and Wyatt Eads.
Eight Great Grandkids, Asher Santiago, Charlotte Santiago, Gage Santiago, Gavin
Mylott, Ethan Contreras, Griffin Mylott, Jaxton Jones, Lainey Beales.
The family would like to thank all of the health care workers that had a hand in Wayne's
care during this difficult time, as well all of the messages and phone calls of loving
friends and family.
There will be no service at this time. A Celebration of Life will be scheduled for
sometime in the summer in Kentucky where Wayne's ashes will be spread at the
location Wayne had requested. Please honor his memory with a celebration of life
wherever you are.
Share A Condolence
* The funeral home reserves the right to reject or edit any condolence