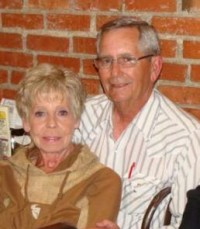 Clydine Fonnesbeck
Born:
Sunday Nov-15-1942
Died:
Tuesday Feb-23-2021
Funeral:
Saturday Feb-27-2021
Morrison Funeral Home
& Crematory
188 S. Hwy 24
Rupert, Idaho 83350
Contact and Directions
Clydine was born in Burley, Idaho 11-15-1942 to Clyde (Tad) Bell and Maxine Lee-Hunter. She graduated from Oakley High School in 1961. The following December she married her high school sweetheart and the love of her life John Fonnesbeck. Dad always said the reason he took her out on a date was because he liked her horse.

Clydine and John spent 56 years together moving different places to work. They finally settled in Oakley, where they were blessed with a son Jon Dean . Two years later after moving to Heyburn, They were blessed with a daughter, Suzette.

Clydine was always known for her hard work ethics and being strong willed. She was also known to be a very beautiful, classy lady. She always looked perfect.

Clydine worked for Skaggs until she quit to help John run their insurance business. Together for over 25 yrs they worked side by side.
That is proof of true love!


When they retired in 2011 they enjoyed traveling to Arizona for the winters.

Clydine was very proud of her four grandchildren, Brant (Chelsey) Ball, Johnathan (Brooke) Aguero, Ashley (Jerick) Staker, Charly Sue (Bryan) Ball-Anderson. They spent many days fishing, camping and tumbling on the grass.

She is survived by a son, JD (Michaele) Fonnesbeck. A daughter, Suzette (Bryan) Ball and four grandchildren and eight great grandchildren. Brothers: Mike Hunter, Terry Hunter, Gilbert Hunter and Merkle Hunter ( deceased)

The family would like to Thank Dr. Owens, Minidoka ER staff and their EMT's.
In lieu of flowers please donate to the Rupert's senior center Meals on Wheels.

There will be a celebration of Clydine's lives at Morey's Steakhouse in Burley , on Saturday, February 27th from 12-3. Friends and family are welcome to come share stories and memories. Cremation services are under the direction of Morrison Funeral Home, 188 South Hwy 24 in Rupert.
Condolences for Clydine Fonnesbeck
From: Pat heidel
I am so sorry to hear about clydine passing
She was a wonder lady and i enjoyed passing the time away With her at the high school rodeos. She will be missed by many
My CONDOLENCES goes out to all the family
From: Marilyn Moncur Blacker
Dear John,
I am so sorry to hear of Clydine's passing. She was always kind and sweet to everyone. May you find peace and comfort
from your beautiful memories of your life together.
With deepest Sympathy,
Marilyn Moncur Blacker
From: Dan and Susan Ball
sending all our love and prayers god bless
From: Sharon Hutchison
Thinking of you with Sincere Sympathy and Fond memories of your loved one...clYDINE WAS my friend, my sister and someone I admired. The time we spent together are memories I will Cherish always. She will be missed..RIP now that you are reunited with the love of your life.
From: L D Sager
Sorry to heaR of Clydine's passing. Our condolences to Gilbert, Mike, and family
From: Janet Parker Greenwell
So sorry to hear of Clydine's passing. It has been a very long time since interacting with her. she was my boss at Skaggs the summer (76) of my junior year of high school. She taught me great lessons about work ethic; one being reliable. I'll never forget the time she came to Minico High School that fall and picked me up for work, as I was scheduled to work the evening shift. I had cheerleading practice after school that day, but for some reason I couldn't get a hold of my mom to take me to work afterwards, so I called Clydine to tell her I wouldn't be able to work my shift since I didn't have a ride. I don't know if she thought I just didn't want to work, but she wasn't about to let me get out of it and said she would be right over to get me. lol I admired her for that. She was a great example of working hard. And yes, always a beautiful, classy lady and I enjoyed working with her in the store. My sincere condolences to the family.
Share A Condolence
* The funeral home reserves the right to reject or edit any condolence