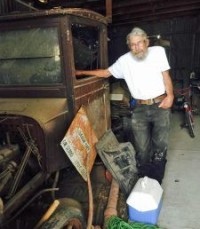 Bill Cole
Born:
Friday Mar-11-1932
Died:
Thursday Sep-09-2021
Funeral:
Monday Sep-20-2021
Morrison Funeral Home
& Crematory
188 S. Hwy 24
Rupert, Idaho 83350
Contact and Directions
WILLIAM L. "BILL" COLE
DECLO -William L. Cole was born in Blackfoot, Idaho on March 11, 1932 to Arlough Edward Cole and Maize Rebecca Dickinson Cole.
He had two sisters, Virginia and Linda.  The family later moved to Heyburn, ID where Bill attended school.  He graduated from Heyburn High School in 1950.
Bill married Faye B. McClintock in 1959.  Together they had three daughters.  Connie Cole, Janet Cole and Stacey Cole.  They divorced in 1974 but remained lifelong friends.
Bill married Darlene Breeding December 19, 1992.  She brought four children into his life that he loved like his own, Raymond Breeding, Darla Breeding, Tabatha Breeding and John Breeding Jr.
Together Bill and Darlene had two sons. William Edward Cole and James Cody Cole.
The years of Bills youth were often very lean and he learned to work at an early age.  At 14, he was driving his Model A across the backroads and foothills looking for carcasses and hides, or old metal he could salvage and sell, often with nothing more than a jacket, a jug of water, and his .22.  He shared a story of how he survived a particularly scary incident in the Oakley foothills when he came face to face with a mountain lion. It had been lying in the sagebrush just off the dirt road. He startled it when he stopped to add water to his truck.  He recalled that they seemed to stare at each other for a very long time before the lion decided he was not hungry, turned, and walked away. 
During his high school years, he earned a little extra money by driving the school bus before and after school and for games or to sporting events.
He was book smart as well as practical smart.  Mechanically he just understood how things work and could fix pretty much anything.  He was an excellent drafter and carpenter.  Doing business as Cole's Construction, Bill built many homes in the Mini-Cassia area in the 60's and 70's.  Known for his beautiful cabinetwork, he often signed them on the inside of the doors.  He did beautiful brick and block work as well, working on the Burley Post Office and the Heyburn Post office during those years.
He owned and operated trucks at different times, hauling hay and other commodities.  The girls knew if they went in the truck with dad you might just get a slice of raw potato with salt, or a slice of bologna for lunch, but it would be an adventure!
Once on a trip back from California, where they had been for a Gold Mine sale, a part broke in the truck's engine.  Fortunately, they were near a convenience store and he went looking for the needed part.  They did not have the part but they had a slab of bacon, so he purchased the bacon and when he got back to the truck, he took the rind off and used it to replace the broken part and it lasted all the way home.
Bill just saw the use in things that others often did not.  Growing up in the depression kept him looking for things that others discarded but he could use or sell to create an income. It seems that he was always in the salvage business.
Early in their marriage, Bill and Darlene started a salvage yard in Declo.  Most in the community have probably been there at one time or another looking for a part for this old pickup or that old car.  Bill probably had it and he kept the community vehicles running and looking sharp for many years with salvaged parts.  The yard is where they raised their family, and where Darlene still resides. 
Growing up poor did not make Bill tight with his money.  Instead, it gave him a very generous nature.  He knew what it was to be in need and he always found a way to help another out. 
Not only did their own children grow up in their home but also any who needed a place to stay were welcomed.  There was an abundant supply of used cars to drive, food to eat, a little cash, encouragement for the next step and advice if asked for.
Bill and Darlene are Pa and Ma to so many and his passing will leave a huge hole in many hearts.
He was preceded in death by his parents, and his sisters Virginia Cole Hansen and Linda Cole, as well as son John Breeding Jr.  and one great grandchild.
He is survived by his loving wife of almost 30 years, Darlene Stone Cole. 
Daughters Connie (Jess) Anderson, Janet Sunderland, Stacey (Bryan) Williams, Darla Page and Tabatha Stone-Cole. 
Sons Raymond (Tricia) Breeding, William (Jodean) Cole, and James (Ashley) Cole.
Thirty three grandchildren:
Brandon, Andrew and Rebecca Sunderland;
Cameron, Cody and Rose Anderson.
James and Jessica Williams.
Marvin, Jeffrey, Vergie, Cheyenna, Jebidiah, Arizona Breeding and Valerie and Jacobi Buckley.
TJ, Zackery, Drenda and Justin Page.
Tia, Emily, Von, Brian, Jana and Codi Belt.
Alyssa, Evylin and Edward Cole. 
William, Wesley and Wyatt Cole. 
Bill and Darlene also had nineteen great-grandchildren, and two on the way.
Funeral services will be held at 11:00 a.m. Monday, September 20, 2021 at the Morrison Funeral Home, 188 South Hwy 24 in Rupert.  Burial will follow in the Pleasant View Cemetery.  A viewing will be held on Sunday afternoon, September 19, 2021 at the Morrison Funeral Home from 1:00 p.m. - 3:00 p.m. and one hour prior to the services at the funeral home on Monday.  In lieu of flowers, family suggest memorials be made to a memorial fund that has been set up with any First Federal Bank in William Cole's name under Tabatha Stone-Cole.  Arrangements are under the direction of Morrison Funeral Home.
Condolences for William Cole
Bill was a wonderful and kind hearted friend or so many years. My family thought the world of him. Now he is with Jesse on the other side. will be missed but never forgotten…. It was a blessing for me to know you Bill.
Georgia Smith
Dear Darlene and all the family. Thinking of you often these days. We loved each time with you and Bill. Wish we could stand by and be with you. Just know you are in our hearts. Cheryl
Cheryl Emborg
I Didn't know Mr. Cole but I've had the Privilege of being around your daughter, Connie And GRANDDAUGHTER, Rose in Gillette, WY. So you must be An awesome person because they are wonderful people. May you find peace and rest. May God bless all your family.
Lorraine Taylor
Sorry for your loss, just know heaven has gained a top-notch angel!!
William Stanley
Prayers for his family, he will be remembered. He was one of the good guys for many years, rip friend.
Cathy Ingalls
Dear Darlene I gave him my condolences to the family. Bill was a big influence in my life and many different directions.  I love that man more than I can express feelings. May he rest in peace he had the heart of a gold. I'm going to miss him. He was a big part of my growing up years Love you all God bless.
Henry Kyles
My heartfelt sympathy goes out to the Cole FAMILY. Bill was a true gentleman and one of the most generous people that I have had the pleasure of knowing. I am very sorry for your loss.
James Douglas
To the Cole family
We are so very very sorry to hear about Bill's passing. He will be greatly missed.
Dale and Cheryl Bourquin
| | |
| --- | --- |
| | |
Share A Condolence
* The funeral home reserves the right to reject or edit any condolence