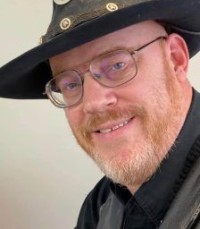 Edwin S Smith
Born:
Tuesday May-29-1962
Died:
Saturday Oct-02-2021
Funeral:
Friday Oct-08-2021
Morrison Funeral Home
& Crematory
188 S. Hwy 24
Rupert, Idaho 83350
Contact and Directions
Edwin Scott Smith aka (Colonel Birdwell Hawkins) of Burley, Idaho passed away at the age of 59 on October 2, 2021. He was born on May 29, 1962, in Burley, the son of Ivan LaDell Smith and Linda Ann Marsh Smith. He received his education in Kimberly and attended the University of Idaho studying Computer Science.  He enjoyed working at PMT for 24 years. He served as one of the Pastors of Word of Life Fellowship in Burley for about 30 years. He married Diann Becham (Keaton) on September 18, 2014.  Together they lived in Burley.  They enjoyed several adventures with shooting and travels.  Ed enjoyed Cowboy Action Shooting throughout magic valley, at Jerome, Rupert, and Rexburg.  He worked very hard to make sure everyone was having a good time.  He won many awards including first place at the SASS Northwest Regional Josey Wales Competition from 2018 – 2021, along with many other shooting awards.  He is survived by his wife Diann Becham Smith, Father Ivan Smith of Kimberly, sister Joanne (Chris) Mulls of Ty, Georgia, along with several aunts, uncles, nieces, and nephews.  He is preceded in death by his mother Linda Ann Marsh Smith of Kimberly, Idaho, and his grandparents and two uncles.
A celebration of Life service will be held on Friday October 8, 2021, at Morrison Funeral Home in Rupert, Idaho at 11:00 a.m.
Condolences for Edwin S Smith
I worked with Eddie for 20 years at pmt, Ed would tell me i was the only one who could call him Eddie. I heard him play his multi-string guitar at a retirement party for a coworker., what an awesome guitar player. I attended a church service when Ed & his dad were ministers. Ed was my go-to guy for tech force. Ed always looked sharp in his western shirts and black vest. I will miss our daily hi-five & our quick draw. I could not outdraw him. i talked to Jesse and the gun club will be missing you too. so long my friend.
Teresa Riedlinger
I along with my wife Lisa and My mother Joan visited him and his wife Diann in August and on my birthday August 5th I was invited to shoot all his western style six shooters at the gun club. it was fabulous. sorry to hear about losing him.
Gregory Beckham
SO SORRY TO HEAR OF EDWIN'S DEMISE. I'VE KNOWN HIM FOR 16 YEARS. WE DONE COWBOY ACTION SHOOTING TOGETHER. HE WAS A GOOD CHRISTIAN MAN AND SHALL BE MISSED.
IN CHRISTIAN SYMPATHY,
JAMES F. CROUSON AKA MACE MADDOX
I'm so sad to hear about his passing. He became a friend as he worked out my technical issues over the years at pmt. I never had the joy of meeting his wife, but I know how much he loved her. He would tell me about her as he worked on software for my embroidery sewing machine. Telling me how he did the same for her. I can't imagine how much he'll be missed. My heart is broken
Carol Shockey
Ed was an amazing man and an amazing blessing to so many of us. As a young boy, ed took my sister and I in as his own and helped provide guidance and love in place of an absent father. I reminisce on Christmas mornings where we would wake up at his house with his wife and my mom and just glimmer at the sight of all the gifts and love he helped provide for us. Because of him, I can say that I am a better man to this day. We will miss you sir and give Linda a big embrace for all of us. We all love you very much.
Frank Bennett
Tony and I were shocked to hear of Ed's passing. To us, he will always be Colonel Bird. The cowboy with a great big smile, great big guns, a great big lunging step…. and a great big heart. we've all experienced too much loss in the last few years but heaven gained a beautiful soul. RIP Colonel Bird You will be long remembered, and very missed.
Idaho callipe kid & sweet harmony
Michelle Randall
Ed was not only a great Tech Force Techni, he would make sure you were up and running before he let you walk out of His office. Ed was kind and helpful. If I had a problem, he usually offered a helpful solution. He will be greatly missed. Something Ed would say, "Robbers don't hold up empty stagecoaches". He removed Serbian hooks out of my computer three different times.
Teresa Naylor
Enjoyed cowboy shooting with the colonel . Very friendly and helpful. Good man and he will be missed.
Jim McBride
Ed, and his dad Ivan, have brought cowboy color to Our church family, blessing us with their vests and string ties, and Ed's banjo and Ike's harmonica. We are saddened to see him taken Home so Young, but We rejoice that heaven has Gained a soul winning, six-shooting, banjo plucking, son, saint, and soldier for our Lord! Happy trails, Ed; until we meet again.
Mike Yost
Ed is a great guy. I only knew him for a brief time, but in that short time he made an impact. What i do know is that Ed loved the lord and has just changed his address. I look forward to seeing him again soon in his new home and see what he has in store for us there. I pray for his family that the Lord's strength be upon them and this is a time of rejoicing and celebrating Ed's life and urgent expectation of being together again in Heaven. Amen!
Jeff McCray
You will truly be missed, you and your family were there when I lost my husband and my brother Delfino you led us to the lord, you're an awesome pastor and I'm sure the lord has your horse waiting for you.
Marlene Perry
I did not know ED but his mother and I were first cousins. may he rip.
Mickey
My heart goes out to Diann. I just Heard of Ed's passing today & was so Shocked.! As you Trust in the lord his atoning sacrifice can ease the grief Of this sudden loss. Take care my friend & be positive as you ask yourself "why me?" They say There is a light at the end of a tunnel. I pray you see it soon!
Evelyne Schow
God Bless You Good and Faithful servant
Kari Klosterman
To the family- Our sincere sympathy . Ed was one of a kind. He was a fabulous person and helped us for years with all kinds of tech (PMT) issues. Our hearts ache for those left behind, but I imagine him driving through the gates of heaven in that big pickup with a huge smile on his face! God welcoming him with open arms and of course "well done good and faithful servant" . RIP Friend. You will be greatly missed.
Terry & Karla Barnes
My condolences to everyone,
He was a wonderful soul. We, my HUSBAND and I, met him through his work. He was always so kind and very helpful. ( ALWAYS said, no question is a dumb question. )
He helped us with our computers, kindle, etc…we will miss him dearly. Our Prayers are with all of YOU.
Jean Vasquez
Share A Condolence
* The funeral home reserves the right to reject or edit any condolence